Tags
Related Posts
Share This
Hot Yoga Rockaway Beach!
Vinyasa is normally my go-to yoga. I took a Bikram hot yoga class two years ago and remember it was challenging in the hot temperatures. But I heard about Hot Yoga Rockaway Beach from a friend recently, so I figured I'd give it another shot.
Situated at 181 Beach 116th Street on the 2nd floor is Hot Yoga Rockaway Beach.
Everyone was chatting when I arrived, so I could tell this is a tight knit yoga community. Even so, I immediately felt very welcomed, and it was great to see such a wide range of ages. I was impressed at how fit and strong many of the older students were. What a dedicated group!
Breathing exercises are standard in hot yoga, and that's how Christine, our instructor, began our class. I won't even pretend that I remember the name of the breath exercise. We followed with balance postures, something I always find challenging but know will come with practice and patience. We continued with different poses until we reached the magic number of 26 poses in the 100-degree heat. We ended with the standard Savasana.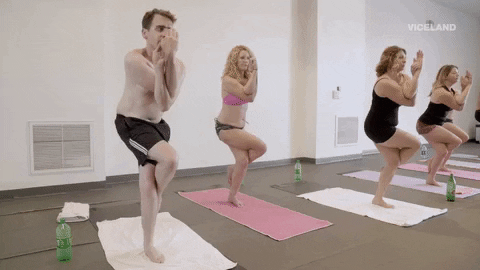 I'm not going to exaggerate. The class was challenging, but definitely doable. Christine was a great instructor, highly knowledgeable and gave individual recommendations when needed. I felt completely fatigued afterward, but read that fatigue turns to energy with the consistency of going to class. I had to turn off my self-criticism at times and force myself to stay present and try my hardest while being patient. I think that's what yoga is all about – turning off the chatter in our heads and being centered and patient. I will try it again, and maybe again after that.
One thing Christine mentioned at the end is that we are different people when we walk out than when we walked in. Yoga is about releasing and letting go. That was a lot of collective sweat!
So hop on the Rockaway Ferry or take the A train to Hot Yoga Rockaway Beach and get your sweat on!
For more information on the studio, visit: www.hotyogarockawaybeach.com
Email jennifer@sistersvisit.info by November 19th and let me know that you want hot yoga! You will be entered into our drawing and can win a free 60-minute class. Best of luck and see you in the hot room soon!
Sisters Visit – We are two sisters who share different experiences through our travels in life. Occasionally we invite our friends to contribute as well. Most of our write-ups involve fitness, yoga, anything holistic, and our favorite products to share. Read our past reviews and stay in touch with future reviews by signing up for our e-newsletter at www.sistersvisit.info. Follow Sisters Visit on Facebook or Instagram and let us know if we can write a review for you!